Find the best Cinco Ranch TX real estate lawyer at The Okonji Law Office. There is a certain reason that you need a real estate attorney. Because you want the best help, you need to use the best lawyer. Now there are many real estate law firms in the greater Houston area, so you being your search for one near you. If you have gone through many law firm websites and real estate attorney profiles and have landed on The Okonji Law Office, this is no coincidence.

In the Houston, Texas area, there are many real estate opportunities, and when it is time to make s decision, don't rely on your real estate agent. Hire a Cinco Ranch TX real estate lawyer like John Okonji of The Okonji Law Office. We specialize in assisting clients in various real estate endeavors to get the legal help that they need. So if this sounds like something that you need today, then choose The Okonji Law Office to be the law firm that helps you.
We are a real estate law firm located in Katy, Texas. So, if you are planning to have any real estate ventures or already have a real estate venture in this area, just give our law firm a call. Call us today and ask to speak with a Cinco Ranch TX real estate lawyer.
The Okonji Law Office
At the Okonji Law Office, we believe in providing all our clients with passionate legal representation. But what does that mean to us, and what does that mean for you? When you hire a lawyer, you are expecting them to put time and energy into your case. Your case is just as important as anyone else's case. This is what we mean by passionate legal representation. The lead Cinco Ranch TX real estate lawyer takes the time to hear your case. Then he looks into what the problem might be and how exactly he can go about assisting you. He does not rest until he is able to give you the help that you deserve and came for.
Now, what this means for you as a client is the best legal advice and help. By choosing the Okonji Law Office, that is the standard that you can expect. No matter the reason you came in looking for a Cinco Ranch TX real estate lawyer, you are sure to get that help.
Make an appointment to meet with a Cinco Ranch TX real estate lawyer
Remember that our lead attorney makes always makes sure that your case is attended to. With that being said, The Okonji Law Office has an appointment-only office rule.
Imagine being in a meeting with your real estate lawyer, and another client walks into the room. The attention of the lawyer is now divided between both clients. He is trying to pay attention to you, but he also wants the other client to be comfortable. You can notice this, and because of that, cut the meeting short and be discouraged. This is something that we don't want our clients to go through or feel.
So, we ask that all clients call to schedule an appointment with our lead attorney ahead of time. It allows him to prepare for your session, and his attention is solely on you during the meeting. So call 832-844-3689 to make an appointment with our lead Cinco Ranch TX real estate lawyer.
Meet Real Estate Lawyer John Okonji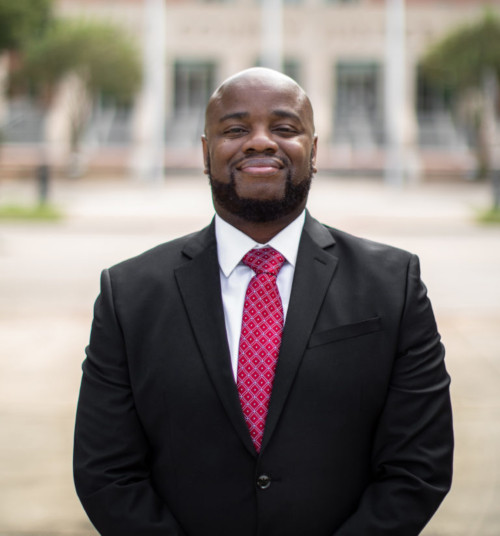 Let's meet the Cinco Ranch TX real estate lawyer who will be helping you. John Okonji is the lead attorney at the law office. He is also the business owner and runs everything at the office. Mr. Okonji has always had the dream of studying law and practicing law, and with all that he's doing now, he is accomplishing that dream. But the journey to get where he is now was not a short one.
John Okonji started his journey at the University of Houston, graduating with a Bachelor of Arts with honors. Then he moved on to Thurgood Marshall Law School at Texas Southern University, also graduating with honors. The last step to be becoming a real estate lawyer was passing the Texas State Bar. He did this and now is licensed to practice in the great State of Texas.
Choosing Houston and, more specifically, the Cinco Ranch area to practice was a part of this plan. There are so many real estate ventures in this area, and that is because it is always developing. So, there are indeed clients in the area who will be in need of his services. Mr. Okonji has years of experience and has become an expert in this area. Volunteering his time and service to organizations that might not be able to afford a real estate lawyer is something he loves to do. This keeps him on his toes and allows him to stay up to date with all the real estate laws.
Practice Areas
Mr. Okonji, Cinco Ranch TX real estate lawyer, has three major practice areas. These three areas are real estate transactions, contract drafting/revising, and landlord-tenant disputes. Each of these can still be broken down according to the situation. If you are ever unsure if Mr. Okonji can assist you with the service that you need, you can always give him a call.
If you are a commercial or residential space owner, he can assist you. He can also assist you if you are a tenant. For those thinking about making a residential or commercial space purchase, he can be by your side through the whole process. And if you are thinking about selling his services are available to you as well.

Cinco Ranch TX real estate lawyer
Now that you have more information about The Okonji Law Office as a law firm and our lead real estate attorney, you can make your decision. Choose a real estate law firm and a Cinco Ranch TX real estate lawyer who can truly help you.
Facts about Cinco Ranch Tx
Cinco Ranch is a subsection of Katy Texas
Visit Typhoon Texas close to Katy Mills
The Cinco Ranch area is divided into 2 phases
Learn more about Cinco Ranch Tx by visiting it's website