Managers who are looking for a lawyer for apartments Fulshear, TX should consider hiring John Okonji from The Okonji Law Office. He is an expert at representing apartment managers, who are often seen as the villain in a lot of these situations. Managers are highly recommended to seek legal counsel when dealing with a landlord-tenant dispute.
If you want the best lawyer for apartments Fulshear, TX then John Okonji is the lawyer you are looking for. His office is conveniently located in Katy, TX on Cinco Ranch Village Center Blvd. Contact him today to schedule a consultation.

The Best Lawyer for Apartments Fulshear, TX
When you need representation, you want to ensure you hire the best. That lawyer is John Okonji. He is the Managing Attorney at The Okonji Law Office. His office has been representing apartment managers for years. Mr. Okonji has over a decade's worth of legal experience, researching, discovering, presenting evidence, and writing and revising contracts.
Mr. Okonji knows his way around apartment laws and what obligations managers must adhere to. This means he can help managers who want to ensure they are following the law to the letter when building a case against one of their tenants.
Representation does not just include court sessions; it also means helping two or more parties come to a mutual agreement through mediation. Sometimes you want to do everything you can to stay out of court. They can be time-consuming, expensive, and all-around stressful.
No one really enjoys going to court, but sometimes it is necessary. However, with John Okonji working for you, you do not have to worry, regardless of whether you are going to court or trying to find a compromise.
When you hire Mr. John Okoni, you know you are in good hands.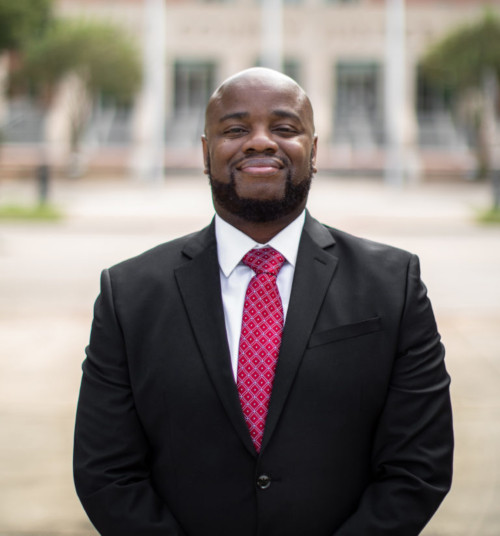 About John Okonji
John Okonji is a reliable and talented lawyer. He attended the University of Houston, earning his Bachelor of Arts degree. He then earned his Juris Doctor degree at the Thurgood Marshall School of Law-Texas Southern University.
Mr. Okonji spends his time on many volunteer projects, such as the Houston Volunteer Lawyers and Lone Star legal, in which lawyers will work pro bono for those who may not be able to afford a lawyer, provide legal advice, and offer legal education.
He is also a Lawyers for Literacy Committee Member for the Houston Bar Association, which helps give schools free books to elementary schools, corporations, and individuals.
Mr. Okonji puts 100% of his efforts into everything he does. When you need a lawyer to fight for you and your rights, you can count on John Okonji to be there.
He has been admitted to practice law by the State Bar of Texas and by the Federal U.S. District Court- Southern District of Texas. Mr. Okonji's practice areas of expertise are landland-tennant disputes, real estate transactions, and contracts. He can represent you on all fronts of your issue. Be sure to check out his helpful blog for fast and free information.
When Should Landlord Involve an Attorney
As a manager of rented property, you are bound to run into problems with a tenant or two. Many issues can be solved fair quickly, but there are times when landlords need to hire an attorney to step in and handle things. However, when do you know when you need an attorney?
Most apartments and community living spaces do not generally have an attorney on staff or on retainer. Therefore, it can be difficult to know when you should consult a legal representative.
An eviction is one of the most common occurrences that property managers will have to face. Evicting a tenant is never a good thing, and it can get challenging, especially if the tenant feels they were wrongfully evicted.
Evictions can be tricky to deal with because there are laws you have to follow, and if they are not followed properly, you could lose your case and you could end up being sued as well.
For instance, landlords are required to give tenants a certain amount of time from the time they are notified of the eviction to the time they have to leave.
There needs to be a clear indication that the tenant has broken the contract obligation, and the right paperwork has to be filed. If any of these steps are mishandled or neglected in any way, landlords can face drastic consequences. Hiring a lawyer can ensure you do everything that is required of you to help you win your case.
If something goes awry and you are being sued for illegal discrimination, you need to hire a lawyer immediately. These cases can often be messy and complex. Even if you feel you have followed all the fair housing laws closely, that does not mean you cannot be sued or investigated.
If property damages occur on your property and you believe it was the fault of a tenant, you might need to lawyer up. However, this also goes for landlords who are being sued for property damage to a tenant's property. Maintaining the property is important, and if a tenant feels you have neglected those duties, they may be entitled to compensation.
With a property lawyer, you can be represented fairly and accurately to ensure the best outcome for your case.
Call The Okonji Law Office Today
Legal issues can be stressful, so do not go in it alone. Be sure to hire John Okonji when you need help. Your chances of ending a dispute with your tenant in your favor will increase greatly if you have the right representation.
You do not want to hire just anyone; you want to hire a lawyer that has years of training, education, and experience in this area. John Okonji is the perfect candidate to help you.
You can be sure that there is no better lawyer for apartments Fulshear, TX than John Okonji from The Okonji Law Office.

Fun Facts for Fulshear, TX
The First United Methodist Church was created in 1894.
Reverend J.H. Holst was the church's first resident.
There is evidence showing that school was held at the church before the Fulshear school district was created.