If you are a landlord with problematic tenants and need help to resolve a dispute quickly, look no further for qualified Katy, TX breach of contract lawyers. The Okonji Law Office is here to help you with any issues involving a breach of contract, including nonpayment, violation of community codes, and rental maintenance. Greater Houston area residents can visit the office in person to speak with the Managing Attorney, Mr. John Okonji.

The more you know about property laws beforehand, the easier it will be for you to avoid potential disputes with tenants. However, you may need more than just communication with your tenant. In this case, a lawyer is an invaluable asset.
Mediation is an option in some cases, especially if you want to give your tenant the benefit of the doubt. If your case involves potential legally binding decisions, an experienced lawyer who specializes in landlord-tenant law is recommended.

Potential Disputes
Many issues can arise between a landlord and a tenant, and, given a long enough timeline, some are practically inevitable. Being aware of the following potential disputes can help prepare you for any situations you may encounter during your tenant's lease.
Maintenance & Cleanliness
Many issues can result from a tenant's failure to maintain their rental property. As a landlord, it is your responsibility to manage the physical structures and infrastructure of a rental property to ensure the safety of tenants. Tenants agree to keep their part of the property in good condition, and should they fail to do so, tensions can arise. Reminders may ease the problem, but significant damage should be addressed very quickly.
Nonpayment
Another common issue faced by landlords is nonpayment. Tenants may refuse to pay some or all of their standard monthly rent. If your lease agreement includes other additional fees, it is important that tenants pay these as well. Any failure to do so is cause for concern. Communication is critical to remind the tenant of any fees they may have forgotten to account for, though this still may not resolve the issue regardless of how clear your policies are.
Community Codes and HOA Rules
Most communities have rules guiding the conduct of their members. Entities such as homeowners associations often have guidelines that cover noise levels, pet size and quantity limits, and home occupancy limits. Renters that fail to follow all of the community guidelines may incur penalties. It is highly recommended that all applicable codes and regulations of the area are included in the lease agreement to prevent infractions from becoming an issue.
Reliable Katy, TX Breach of Contract Lawyers
Contracts exist for a reason; rules are made to protect those involved from harm. A tenant should understand that they are not above the law or their contract. Any breach of a signed contract means it is important to act quickly before the situation gets worse.
If a problem has escalated beyond your control, there is still time to act. Contact The Okonji Law Office to help. Katy, TX breach of contract lawyers are an invaluable asset to solving your dispute, and Mr. Okonji is an outstanding legal expert to have on your side. He can guide you on your journey to fix any issues you have and find a resolution for your disagreements.
Real Estate Transaction Experience
Even if you are not a landlord, anyone buying or selling new property can benefit from Mr. Okonji's services. Make an appointment at The Okonji Law Office, and you can learn about any possible legal situations you may have during your property ownership. You can depend on Mr. Okonji's certified real estate knowledge to help you navigate any tricky issues that appear.
Experienced lawyers like Mr. Okonji can help you with any confusing contracts or legal documents about your real estate. This extra knowledge is valuable in Texas, where a lawyer is not required to be present when closing on a home. Though it is possible to close without one and have the process go smoothly, a real estate lawyer provides specific benefits. It is a good idea to bring a real estate attorney with you to any property closings.
With the help of Mr. Okonji, you can review documents and find anything that needs to be changed before closing. Property is a significant investment that shouldn't be taken lightly, and it is a smart choice to arm yourself with all the knowledge you can find for such an important decision.
Mr. Okonji offers his services at his Katy area office and sees clients by appointment only. He understands that your time is precious, and personal meetings can be much more helpful than phone calls.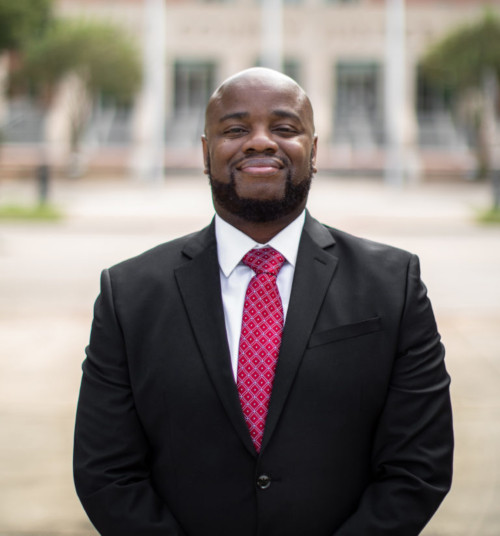 A Professional You Can Trust
Mr. John Okonji is a real estate lawyer specializing in resolving landlord-tenant disputes. He is the Managing Attorney of The Okonji Law Office, PLLC. He has been admitted to practice law by the State Bar of Texas, the North Carolina State Bar, and the United States Federal District Court – Southern District of Texas.
Mr. Okonji graduated with honors from the Thurgood Marshall School of Law and the University of Houston. He is a proud volunteer for Houston Volunteer Lawyers, Lone Star Legal Aid, and the Houston Bar Association – Lawyers for Literacy Committee.
Some of his professional memberships include the Katy Bar Association, the Fort Bend County Association, and the Houston Bar Association – Real Estate Law Section.
Mr. Okonji offers his services to the Greater Houston area, including Fort Bend and Harris counties. Contact him now for information on his rates. Visit his blog to read more about his experience as a real estate lawyer, including advice for landlords, real estate market conditions, and tips about eviction.
For legal advice on your properties, choose Mr. Okonji from your options for Katy, TX breach of contract lawyers.
Fun Facts about Katy, TX:
The City of Katy sits in three counties – Harris, Fort Bend, and Waller.
The beautifully landscaped Harvest Plaza located in the heart of downtown Historic Katy pays homage to Katy's beginnings as a rice-farming community.
Fans of trains and locomotives are encouraged to visit the MKT Railroad Depot and Park to learn about the history of Katy's passenger rail service.