If you are a landlord and you need help with drawing up a lease, then you need to look into how Katy, TX lease lawyers can help. John Okonji is the perfect lease lawyer to help with drafting and revising your lease to ensure it states clearly what is expected of you as the landlord and your tenants.
This is a contract you want to get right before your tenants sign them. If there are loopholes or no guidelines clearly stated in the lease, it can cause issues for you down the line.
Give John Okonji a call, or visit him at his office in Katy, TX

What do Katy, TX Lease Lawyers Do
Katy, TX lease lawyers are lawyers who specialize in leases and contracts. Leases are legal agreements between landlords and tenants that outline the terms of the tenancy, such as the length of the lease, the rent amount, and the rights and responsibilities of both parties.
A lease lawyer can help you understand your lease agreement and protect your rights as a landlord. In some cases, a leasing lawyer can also help you negotiate better terms with your tenant.
If you're considering drafting a lease agreement, it's a good idea to consult with a leasing lawyer to make sure you understand your rights and responsibilities.
What happens is a Tenant Breaks Their Lease
If a tenant breaks their lease, they may be held liable for the rent for the remainder of the lease term. The landlord may also sue the tenant for any damages caused by the breakage of the lease. Be sure to hire a leasing lawyer to help protect the rights of the landlord.
Steps to Take in the Event of a Breach of contract
If you have a contract with another party, and that party breaches the contract, you may be able to take legal action against them. You will need to hire a leasing lawyer to help you with your case. The lawyer will review your contract and help you determine if and how there was a breach of contract. If the contract was breached, then you can sue for damages. Your attorney will also help gather evidence and build the case. If you win your case, you may be awarded damages.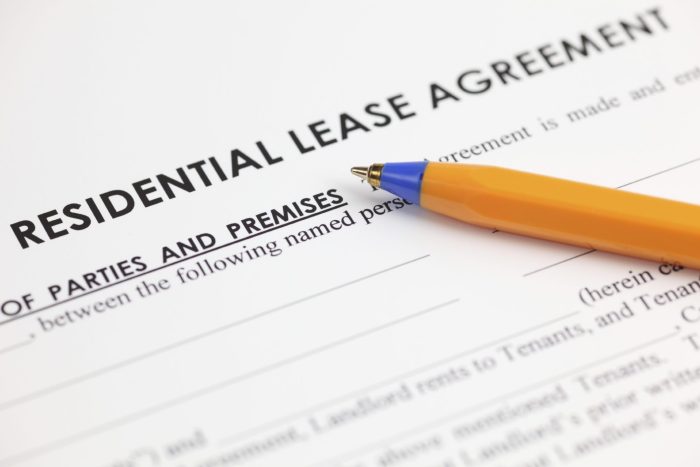 What if a Tenant just Wants to Cancel Their contract?
If a tenant wants to cancel your contract, then the first thing they should do is review the cancellation clause of your contract. In most contracts, there should be a specific process that must be followed in order for the contract to be canceled.
If there is no such clause or process specified, then they may be able to cancel the contract by sending a written notice of cancellation to the other party, but the facts of every case can vary. You should consult with an attorney before taking any action in allowing a tenant to cancel the contract.
What Should Every Lease Contract Have
Every lease contract should have a few key components to protect both the lessee and the lessor. While every contract will be different based on the property and the agreement between the parties, there are some standard clauses that should be included. By ensuring that your lease contract has these components, you can help avoid potential legal problems.
1. Terms: The terms of the lease should be clearly defined in the contract. These terms should include the date of the agreement, the amount of time the lease will be in effect, and any renewal or extension terms.
2. Rent: The rent charged under the lease should be clearly stated and based on the property's fair market value. The lessor may be subject to a lawsuit if the rent is not based on the market value.
3. Security deposits: The lessee should be required to pay a security deposit to the lessor.

4. Maintenance and repairs: The lessor should be responsible for making necessary repairs and maintenance on the property.

5. Alterations: The lessee should be required to agree to any alterations made to the property by the lessor.
Unless otherwise stipulated in writing, all alterations become part of item 4 above (maintenance/repairs). Be careful with this provision because it can limit what you do with your business.
Consult an attorney before including this clause if you are unsure about its implications. If there is ever a dispute regarding whether an alteration was permitted or not, it might come down simply to who has better records – one side would show payment approvals from the landlord while the other side shows no written approval.
Why Choose The Okonji Law Office
John Okonji is head of The Okonji Law Office. He has years of experience in creating, revising, and interpreting leases and contracts of many different kinds. He has a wealth of knowledge and education about what needs to go into a contract.
If you are ever in the position of needing help with a contract of any kind, it is imperative that you get a lawyer that specializes in the particular area. John Okonji is the perfect lawyer that can help you. He has past experience working with other companies reading over contracts to ensure compliance.
He also has experience in preparing landlords for court and gathering evidence. His practice areas with transactions also involve real estate. He has the well-rounded experience and background you would want in an excellent lawyer.
With John Okonji by your side, you can rest assured that you are being represented properly. If there is a dispute with a tenant, you can go to John Okonji, who will fight for your rights as a landlord. When searching through the many Katy, TX lease lawyers, John Okonji should be at the top of your list.

Fun Facts for Katy, TX
Katy is known for its rice, cotton, gas, and peanut industry.
Katy is home to many historical buildings that were restored and saved after the hurricane of 1900.
It is only a thirty-minute drive from Houston.